Medical Library
Loading...Please Wait
Trochanteric Bursitis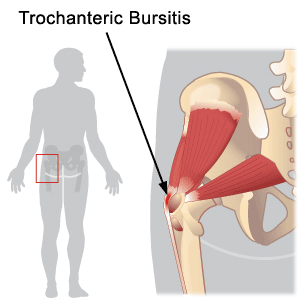 A bursa is a fluid-filled sack that decreases shear forces between tissues of the body. Trochanteric bursitis (inflammation of a bursa) is caused by excessive stress on the bursa between the IT Band and the greater trochanter. Signs and symptoms include pain over the outer aspect of the hipbone, which often is exacerbated when lying on the affected side, standing on the affected leg, or excessive walking. Treatment often includes rest, ice, and compression, physical therapy including stretching and progressive strengthening, and steroid injection may be helpful.
Possible Treatment Goals
Improve Balance
Decrease Risk of Reoccurrence
Improve Fitness
Improve Function
Improve Muscle Strength and Power
Increase Oxygen to Tissues
Improve Proprioception
Improve Range of Motion
Self-care of Symptoms
Improve Tolerance for Prolonged Activities
Additional Resources
Disclaimer
The information in this medical library is intended for informational and educational purposes only and in no way should be taken to be the provision or practice of physical therapy, medical, or professional healthcare advice or services. The information should not be considered complete or exhaustive and should not be used for diagnostic or treatment purposes without first consulting with your physical therapist, occupational therapist, physician or other healthcare provider. The owners of this website accept no responsibility for the misuse of information contained within this website.